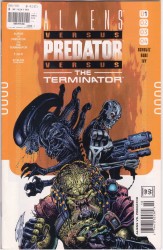 Aliens vs. Predator vs. The Terminator (1-4 series) Complete
Merc's consumer - comics, like all crossovers, and no claim to world domination . Seriously - is strictly prohibited.
Events occurring here are a direct continuation of the last movie of the Alien Quadrilogy , and in the pages of comics we meet again with Ellen Ripley and the android Call .
Ripley still survives Alien 4 . You doubted it? But as always happens , military power and they want to instigate a new project to create a wonderful soldier. Resistance , as always, finds out about this monstrous conception . To hell is always the military guard. Mollify Ripley to join them in a noble war and drags it to the top-secret base. And there starts something completely incomprehensible and horrible ...