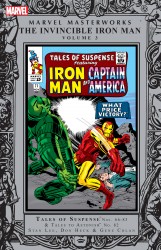 Iron Man Masterworks Vol.3
Marvel publisher
Pages: 440
2014 year
English comics
Size: 802.9 mb.
The Iron Avenger returns for another round of Marvelous Masterworks Mayhem, and this one's gonna go straight down to the final bell, True Believer! So buckle up your red and gold retrorockets and get ready for adventure a'plenty as only Marvel can make it!
Stan "The Man" and the Dynamo of Delineation, Don Heck, will pit Tony Stark against the undersea menace Attuma, the Dream-Maker and the massive menace of the Titanium Man in classics without compare. But then the order changeth! After defining the series for nearly 30 issues, Don Heck passes the torch to no less than Gene "The Dean" Colan, whose lush illustrations take the Invincible Iron Man to spectacular heights! Yup, Mssrs. Colan and Lee dive into a who's who as the Mandarin returns, Ultimo attacks and Iron Man goes toe-to-toe with Namor the Sub-Mariner in one of Marveldom's earliest cross-over epics!
This baby's so going to move so quick that you won't have to worry about rust, but you may just have to slap on a pair of oven mitts before handling!
Collecting Tales of Suspense #66-83 and Tales to Astonish #82.