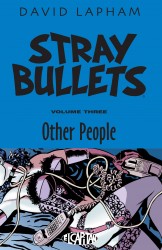 Stray Bullets Vol.3 - Other People
Other publisher
Pages: 260
2015 year
English comics
Size: 285.2 mb.
Beth and Virginia have relocated to Los Angeles where things only appear more normal... Take a ringside seat for these brutal tales of twisted emotion that will knock you to the mat and have you seeing stars...
Collects STRAY BULLETS #15-22.
Other People collects the entire third story arc of David Lapham's critically acclaimed series. Stray Bullets issues #15-22 the way they were meant to be seen! This larger-than-life hardcover features never-before-seen scripts, character sketches, and other behind-the-scenes extras. Volume 3 weaves together the sick and depraved lives of ordinary Americans. Watch as they follow down the path of sin, crime, and emotional vampirism! With startling realism, these new characters slowly weave their way into the lost lives of an old familiar cast like Virginia Applejack, Beth, Monster, and Amy Racecar. Eisner Award-winner for its beautiful style and design, this hardcover is a perfect introduction for new readers and an absolute must for every true Stray Bullets fan.
Oversized Hardcover or normal sized soft cover, collects #15-22 of Stray Bullets