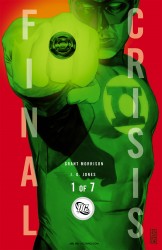 Final Crisis #01-07 Complete
DC / Collections publisher
Pages: 7 issues
2008-2009 year
English comics
Size: 177.1 mb.
Seven issue mini-series.
Morrison's most ambitious epic for DC affected the whole of the DC Universe and was the end result of years of careful planning. In the opening issue, the murder of the New God Orion hinted at the apocalyptical events to follow. Orion's murder was investigated by both detective Dan Turpin and the Green Lantern Corps, while the issue also featured the brutal murder of teh Martian Manhunter by the mysterious villain Libra. The Martian Manhunter's death signaled the beginning of an all-out war between good and evil.
Marketed with the tagline "Evil Wins", the series lived up to its premise, as the later issues revealed a twisted version of an Earth firmly under Darkseid's control. The main series, with art by J.G. Jones (joined by others in the creator credits list as the series wore on), had a visually dramatic conclusion as an army of pan-dimensional Supermen teamed up to save the world from the effects of Darkseid's Anti-Life Equation.
The story spread out into several mini series under the Final Crisis banner, many of which added an extra layer of depth to the central story line. These included; Final Crisis: Rogues' Revenge, in which Flash's arch enemies sought out Inertia for payback in making them complicit in the death of Bart Allen; Final Crisis: Legion of Three Worlds, in which Superman Prime attacked the Legion of Super Heroes; and Final Crisis: Superman Beyond 3D, highlighting Superman's other dimensional journey through time and space to save a mortally injured Lois Lane.
As well as the various mini series, several one-shots were published, including Final Crisis Requiem, covering the aftermath of the Martian Manhunter's murder, and both Final Crisis: Submit and Final Crisis: Resist.