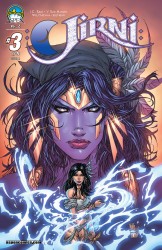 Jirni Vol.2 #03
It is dangerous quest continues!
As Ara continues his voyage on the seas, she comes to learn more about its management - Boro captain. However, any bonding between them is interrupted when an ancient evil rises from the depths - the intent to destroy them all. Men in Boro have heard many stories of the legendary mermaids, but when it comes to legends, sometimes the truth is much worse than a myth!
Creator J.T. Krul, the artist Ken Marion, and colorist Juan Fernandez are proud to present the next volume in the series Hit Aspen - JIRNI!