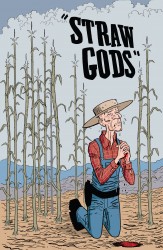 Split Lip Presents - Straw Gods
Other publisher
Pages: 25
2014 year
English comics
Size: 24.6 mb.
пїјIn the midst of the Depression, the Dust Bowl settles on the Midwest, turning many farms into useless expanses of loose dust. For the farmers struggling to hold onto their livelihoods and heritage, it's a fruitless struggle on a dying land.
One such farmer, Vernon, struggles to keep the farm passed down through his family for generations alive. Then he discovers a grotesque stalk in his cornfield. Despite crops failing around it, this stalk thrives and grows larger - by feasting on blood.
When his wife becomes gravely ill, Vernon accidentally ignites a series of events that transform his life - and his land - forever...