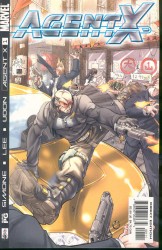 Agent X #1-15 Complete
Marvel / Collections publisher
Pages: 15 issues
2002-2003 year
English comics
Size: 117 mb.
Gail Simone (DEADPOOL) and UDON (X-MEN: EVOLUTION) unleash the mysterious Agent X! What would you do if you had no idea who you were... where you were from... or how you got to where you were? And what would you do if you discovered you had special talents that made you different than everyone else? Would you use those talents for good? For evil? For your own gain? Or a little bit of everything? Introducing the mystery man known only as Agent X! You may think you know what's coming -- and who this mystery man is -- but do you really? And will Agent X's unique talents make him tough enough to endure training at the hands of the Taskmaster? Or maybe a better question is: will Taskmaster let him?
A scarred and injured man crawls to Sandi's home, starving and bleeding. He states he wants to be a mercenary, and after meeting Taskmaster, his training begins.
The poses that the characters have in this first issue is identical to that of Deadpool Issue 69, the comic that proceeded this series.