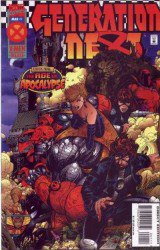 Generation NeXt #1-4 Complete
Generation Next is a team led by Colossus and Shadowcat and charged by Magneto with the suicide mission of rescuing I llyana Rasputin from the labor camps of Core Seattle. All events in this volume are a part of the major X-Men story arc of Age of Apocalypse on Earth-295.
The team consists of Colossus, Shadowcat, Husk, Chamber, Skin, Vincente, Know-it-all (M) and Mondo.