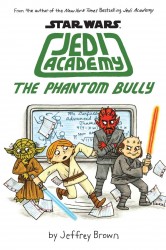 Jedi Academy - The Phantom Bully
Other publisher
Pages: 180
2015 year
English comics
Size: 253.2 mb.
Award-winning author / illustrator Jeffrey Brown returns to the third installation of the New York Times Bestseller Star Wars: Jedi Academy!
It's hard to believe it was last year at the Academy of Jedi Roan. It was busier than ever to learn how to fly (and wash) ships, swimming in the lake country of Naboo, Jedi learns obstacle exam scores and track vorpak clones - do not ask. But now, someone sets it to get in trouble with everyone in the school, including Yoda. If he does not know who it is, and fast, it can get kicked out of school! Why not just a high school easily. ,,
It's unbelievable, the original story captures all the humor, embarrassment, frustration and fun high school - all said one boy comics, diaries, letters, essays, emails and more.