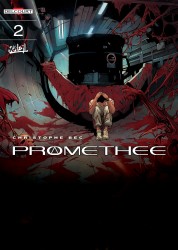 Promethee #02 - Atlantis 2
September 21, 2019 - 13:13 pm
After a successful launch, shuttle Atlantis mysteriously disappears from the screen controls.
September 22, 2019 - 13:13 pm
All watches (watches, ...) on the planet suddenly stop.
September 23, 2019 - 13:13 pm
Shuttle Atlantis appears and lands at Cape Canaveral, with only one survivor aboard: the commander of the mission is in a state of shock right in the middle of torn corpses APPART his crew.
September 24, 2019 - 13:13 pm
US nuclear submarine sonar echoes received by a German submarine that disappeared sixty eight years ago ... In the open sea, trawler discovers a monumental body of the Titanic, which sank in the same place, 650 km south-east of Newfoundland.
And that's just the beginning ... As the threat of Apocalypse is hanging over the entire planet, it would seem that the future of mankind was plunged into darkness ... heralding the worst for our civilization.