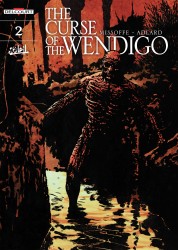 The Curse of the Wendigo #02
Other publisher
Pages: 25
2015 year
English comics
Size: 34.1 mb.
The Great War, in July 1917 in an isolated section of the front, French and German soldiers are killing each other in the endless massacres ...
The night air is rent with shouts hours. Everything in the French camp thinks it is a trap laid by the enemy, but soon they hear the cries of the German lines ... With both factions hunt, they are required to declare an uneasy truce and send a group of men to solve the mystery, with them goes Wohati, Cree warrior one of the 12,000 Indians in the US Army, and the only person who knows what will happen there ...
Preface Charlie Adlard.