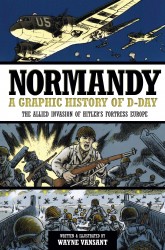 Normandy - A Graphic History of D-Day, the Allied Invasion of Hitler's Fortress Europe
Other publisher
Pages: 107
2013 year
English comics
Size: 161.6 mb.
Normandy shows the planning and execution of Operation Overlord in graphic novel form. Initial attack paratrooper shown, as well as the assault of five D-Day beaches: Utah, Omaha, Gold, Juno, and Sword. But the story does not end there. Once allies got ashore, they had to stay on the beach. The Germans made every effort to push them back into the sea. This book describes some key events in the liberation of Europe as allies:
Construction of Mulberry harbors, two huge artificial harbors built in England and sailed across the English Channel to the troops, vehicles and supplies can be discharged through the invasion beaches.
Taking Cherbourg, the nearest French port maze against German pillboxes
American struggle through heavy bush (hedgerow country) take vital city of Saint-LГґ.
British-Canadian battle for Caen against the "Hitler Youth Division," consists of 23 000 seventeen-eighteen-year-old Nazi fanatics.
Breakthrough Patton Army and U.S. Defense desperately thirties Division Mortaine.
Falaise Pocket, known as the "Killing Ground", where the remains of two German armies were trapped and bombed and shelled into submission. The massacre was so great that 5,000 Germans were buried in a mass grave.
Liberation of Paris, led by 2nd Free French Armored Division, which has been fighting for four long years for this purpose in mind.