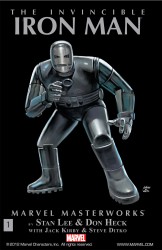 Iron Man Masterworks Vol.1
Marvel publisher
Pages: 191
2010 year
English comics
Size: 125.6 mb.
As unfolded 60s, Marvel Stan Lee has released hit after hit revolutionary, bringing new new heroes to the public all too ready to amazing adventurers with feet of clay. And there is no one who touched and that the ideal adventurer and human reality as Tony Stark, the Invincible Iron Man!
The jet setter, playboy, and a brilliant scientist, Stark cut to the ground when the explosion tears battle in his heart. Only through the creation of amazing Iron Man armor he can stay alive! Packed with Debonair and debutantes, the Cold War and monsters sultry super-spies, the first Iron Man is a classic masterpieces cover with a lid that must be read for every fan of the sensational nature, which were both the comics and the movies by storm. Under the leadership of Stan Lee, Don Heck, Jack Kirby and Steve Ditko trio of artists who began Marvel Age will bring you the creation of a cultural icon.
You will see all the developing Iron Man armor in development, the first appearance of the classic characters from Happy Hogan and Pepper Potts, the Crimson Dynamo and Mandarin, and much more.
Collection of Tales of suspense # 39-50 and 5 page backup feature to number 55.
NOTES:
Marble variant cover edition # 20 in chronological numbering.
Regular edition ISBN: 0-7851-1186-7
Variant Edition ISBN: 0-7851-1282-0
This "ReMasterworks" second edition. It's a little different from the first edition Masterworks.