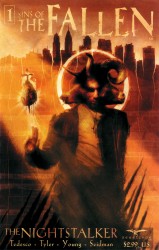 Sins Of The Fallen (1-4 series) Complete
1 The "Nightstalker" begins in present day Philadelphia where a serial killer is leaving behind a gruesome trail of dismembered victims.
Ted Banks, a young hot-shot journalist with a knack for digging up the truth, is assigned to cover the story. But his instinct tells him there's more to these murders than what meets the eye and he's determined to find out what exactly it is.
#2 Ted Banks continues his investigation into the increasingly disturbing "Nightstalker" killings. Suspecting the involvement of a satanic cult, Banks' takes his theory to the police where it falls on deaf ears.
After following a tip from a mysterious stranger, Banks' suspicions are confirmed as he finds a chilling link between these gruesome events and an all too similar series of unsolved ritualistic murders…Murders which occurred exactly 100 years ago.
#3 An overnight stakeout proves futile as yet another dismembered body is found at a local church. But all is not lost as lead detective Mike Higgins finds an intriguing connection in all of the "Nighstalker" victims and decides to pay a long awaited visit to an old friend. Meanwhile, journalist Ted Banks has a disturbing nightmare that seems much too real as he awakes to find his own life may be in serious danger.
#4 Ted has survived the attack on his life thanks to the mysterious Daniel who goes on to explain a motive behind the church of Asmodeus. Daniel describes the story of Lucifer and the "Watchers" and the reasons they waged war against God. Although Ted finds it all implausible he cannot deny the reality of the situation at hand. Meanwhile a meeting occurs within the occult ranks as a servant is warned to make sure there are no more setbacks. Banks and Daniel are getting too close and any interference could bring failure to their plans. And if that happens, there certainly will be hell to pay.