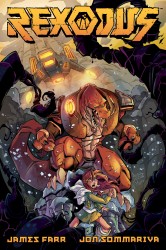 Rexodus
Dark Horse publisher
Pages: 121
2015 year
English comics
Size: 142.6 mb.
Dinosaur adventures in space!
The Black Blood is unleashed upon the earth again, and Amber must save her father—and the world—with the aid of the only other Black Blood survivor, Kelvin Sauridon, a dinosaur from the past. In this high-stakes adventure, can they put aside their differences long enough to save the planet they both called home?
Written by James Farr (Xombie: Dead on Arrival, EV).
Pencils by Jon Sommariva (Star Wars Tales, Noble Causes).
A grand adventure for all ages!
A new hero is born!