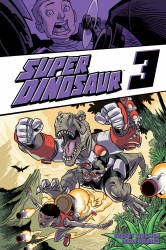 Super Dinosaur Vol.3
Escape from the Inner Earth! Derek Dynamo prisoner exile - who took it deep into the Inner Earth. Now Super Dinosaur must assemble a team to save his best friend, but on the way, he will learn the secret of inner-Earth - that could lead to the fall of human civilization!
SUPER collects dinosaur # 12-17.