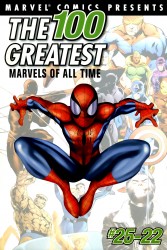 The 100 Greatest Marvels of All Time #01-10 Complete
Collections / Marvel publisher
Pages: 10 issues
2001 year
English comics
Size: 804.9 mb.
We gave you a thousand stories . You have chosen the best! Here come the 100 greatest miracles of all time! Heads , Faithful ! In honor of our fantastic 40th anniversary , we count down the top 100 Marvel Comics ever - and we reprint in the Top 25 based on your votes ! Over 50,000 ballots were sent to the house, each of which is hand- counted and tabulated with the tenacity of our own noisy bullpen ! Results were not sealed and guarded Tetanus - until now! What are the main titles that we have ever printed ? Voting spanned every Marvel era of greatness - but we do not say who came out winners just yet, gang ! The only way to find out is to pick these beautiful collection Reprinting, as we move to what you , the mighty Marvel mass, considered number one , hands down champion - Greatest Marvel Comic of all time!