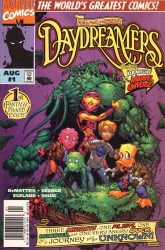 Daydreamers #01-03 Complete
Marvel / Collections publisher
Pages: 3 issues
1997 year
English comics
Size: 15.6 mb.
Having escaped from the Black Tom [see Generation X # 25], Franklin Richards, Leech, Artie Maddicks Tana Nile, Howard the Duck and Man-Thing is now floating on a piece of land through all the realities of the Nexus. Tired of complaining Howard, Tana Nile throws it with their "island" and the duck falls through one of the doorways, living Nexus.
Howard land Nevernevernarniozbia, a land that appears to be an amalgam of many worlds storybook tale populated versions of super-heroes and zlodeev.Ostalnaya part of the group follow through the same door, but they themselves follow a living shadow, called Dark-Hunter.
The group was soon captured by an evil version of the Scarlet Witch, and then reunited with Howard, who was also captured. Leech denies the authority of their captors, and he and his friends almost run, but stopped at the Dark Hunter. For Howard and the rest of the shock, the man-thing said.