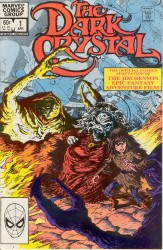 The Dark Crystal #01-02 Complete
Start quest.
At the mystical world of tra young Gelfling (little elf race) considers himself the last of its kind. Raised with a child on the mystics, a dying race, but reduced to ten members, gentle wizards natural forces of the world counterbalance the evil Skeksis, race neck-reptilian monsters and dying, also reduced to ten members,
The fate of these creatures is inextricably linked to the mysterious Dark Crystal, whose evil karmic powers and vampire forces condemn all work out their own destiny in the context of the prophecy, which will save or doom the world ...