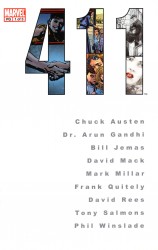 411 #01-02 Complete
Collections / Marvel publisher
Pages: 2 issues
2003 year
English comics
Size: 33.4 mb.
April 11, 2003 Mount turns into hope and decide when Marvel and its international creative community pays tribute to the world the least heralded heroes - peacekeepers. Called simply " 411 " , this special anthology project tells uplifting stories of people who have decided to fight aggression with information and nonviolent resistance .
This beautifully illustrated , positive initiative publishers will be filled with true and fictional stories about everyday heroes who are trying to bring peace to their part of the world , featuring the work of contributing artists and writers from Cleveland in Croatia - from Hollywood to Hong Kong.
" 411 " will also feature a variety of investors from outside the comic book industry , including the Pulitzer Prize and Tony Award winning playwright Tony Kushner ( Angels in America ) , antinuclear activist & Nobel Peace Prize nominee Helen Caldicott (New Nuclear Danger ) , and political cartoonist David Rice ("Get Your War On"). Special introduction will be provided by Dr. Arun Gandhi , grandson of Mahatma Gandhi and co-founder of the MK Gandhi Institute for Nonviolence .