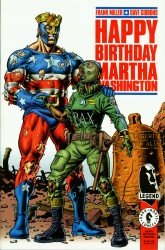 Happy Birthday Martha Washington
Dark Horse publisher
Pages: 30
1994 year
English comics
Size: 10.6 mb.
review
March 11, 1995 , was something of hope in the slums of Chicago. On the day that Martha Washington was born. Frank Miller and Dave Gibbons began the chronicles of Martha Washington in the 1990 series, Give me freedom. On the first page of that fateful first issue presented Birth Martha on March 11, 1995 . Now, almost five years after the legendary team created the story, the real birth date of Martha's just around the corner , and Frank and Dave invite you to join them at the feast.
Happy Birthday , Martha Washington contains three complete stories with Martha Washington. In the " current state ," Martha combat testing a new weapon system when it encounters an enemy soldier is equipped with the same system ; This story first appeared in hard to find San Diego Comic - Con Comics ?"– 2. On the fifth anniversary Special comes DHP story in which Martha learns a lesson not on political agendas or political incompetence , the judge is absent. Yet new stories , young Martha goes on assignment to meet the great American war hero , super soldiers who fight for a just cause , since the glory days of American World War II, and to the extent that it is going to be lucky stiff will be about World War III .
The first two floors were originally presented in black - white , but are presented here in full color. All three stories were painted Angus McKay, whose work on MWGTW made ??‹??‹art community stand up and take notice. And to top it all off , Dave Gibbons produces beautiful new cover. We all need to get a promotion for our birthdays!