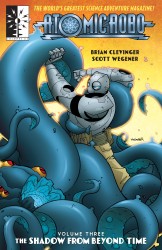 Atomic Robo Vol.3 - ... the Shadow From Beyond Time
Other publisher
Pages: 123
2015 year
English comics
Size: 132.2 mb.
It is 1926, when H.P. Lovecraft comes calling to warn Atomic Robo imminent death. But the shadow of time is spent in the future intersect with our world through the 20th century! The future of the history of the universe hangs in the balance as the team Atomic Robo with, uh, Atomic Robo in a last-ditch attempt to defend the reality!
Collects Atomic Robo and the shadows because of the time # 1-5.