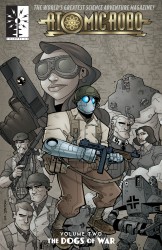 Atomic Robo Vol.2 - ... and the Dogs of War
Other publisher
Pages: 168
2015 year
English comics
Size: 216.6 mb.
Atomic Robo lands on the front lines of World War II against science freaks and destructive weapons strange Nazi Germany - from invincible walking tanks to the atomic engine weather guns to the monster soldiers of the Third Reich. Can ROBO and Ther Sparrow, the largest covert operative UK to complete his mission and turn the tide of the war without killing each other?
Collects Atomic Robo: Dogs of War # 1-5.