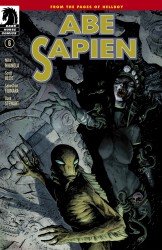 Abe Sapien #6 - The Shape of Things to Come #1
Dark Horse publisher
Pages: 30
2013 year
English comics
Size: 24.6 mb.
A century ago, paranormal investigator Edward Grey fought and destroyed a powerful warlock off the island of Saint Sebastian. In the early 1980s, the B.P.R.D.'s newest agent was sent to retrieve the warlock's remains. But Abe Sapien is ill prepared for the supernatural forces that block his way. Written by Hellboy creator Mike Mignola, and featuring the haunting art of Jason Shawn Alexander (Damn Nation, The Secret, The Escapists), Abe Sapien: The Drowning's the story of Hellboy and B.P.R.D. mainstay Abe Sapien's first solo adventure.