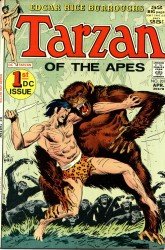 Tarzan (207-258 series) Complete
Collections / DC publisher
Pages: 52 issues
1972-1977 year
English comics
Size: 783.4 mb.
DC took over the series in 1972, publishing Tarzan #207-258 from April 1972 to February 1977. This version initially showcased artist Joe Kubert's depiction of the character. It also featured some adaptations of the Burroughs books in addition to original stories, adapting Tarzan of the Apes, The Return of Tarzan, Jungle Tales of Tarzan, Tarzan the Untamed, Tarzan and the Lion Man and Tarzan and the Castaways. Initially the series also featured adaptions of other Burroughs creations, and had companion books Korak (also taken over from Gold Key) and Weird Worlds. The Korak comic was later renamed Tarzan Family, from 1975–1976, into which all the non-Tarzan Burroughs adaptations were consolidated.