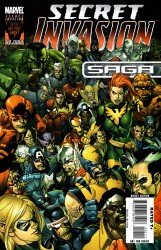 Secret Invasion Saga
Marvel publisher
Pages: 28
2008 year
English comics
Size: 43.1 mb.
Secret Invasion has been going on for years. How long and to what extent, Tony Stark is not sure, but there is one thing he knows is not the time for complacency. Following hot on the heels stunning revelation that Skrulls were disguised as Elektra and Black Bolt , Stark puts his best data mining technology to the test to piece together their treacherous plot.
From the first meeting with the Fantastic Four, through the epic clash Kree / Skrull War and the destruction of the Skrull Throne world , all the way to the recent war destruction and the subsequent invasion of Earth , the timing of known Skrull activity is made clear so effective battle plans can be made.
With Secret Secret Secret Invasion Saga report, the new director of SHIELD It should not leave any stone unturned in his analysis of the history of this insidious enemy: the fate of the Earth depends on it !