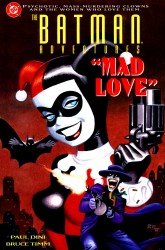 Batman Adventures - Mad Love
DC publisher
Pages: 65
1994 year
English comics
Size: 29 mb.
Harlin Kvinzel was an intern at a psychiatric hospital Arkem , where for the first time and met the Joker. At first, all confined to the professional interest - Harley saw himself the author of best-selling popular on psychology and self-awareness - and what could be better than opening book about the most notorious criminals of Gotham City ? Joker was happy for her ticket. But even with Harley and had a diploma of the prestigious Faculty of Psychology - psychoanalyst got out of it unimportant . A Joker meanwhile noticed a brand new cute blonde named Harlequin and - for fun - decided to play . "Harley Quinn. That name really puts a smile on my face" - as he later told the doctor Kvinzel . Red rose and a note , "Come and see me . Jay" - and that's intrigued by the Joker to Harley organizes regular psychoanalytic sessions . And there too she had heard stories about ill father, difficult childhood , creative misunderstood personality, and at the same time - about Batman , and how Bat poor guy does not pass. His heartbreaking story in his usual manner svoytvennoy Joker seasoned couple of jokes and sad smiles - and here Dr. Hurley is imbued with sympathy for the clown . A reflection on the visit , she went and did it on the side. And in a short time in the chair is Dr. Mr. Jay was listening to a spiritual outpourings Harlin . Who would have thought that's how it all turn out ? Devilishly charming Joker, attending to a lonely and frustrated Hurley - here the doctor and realized that fell in love with her ​​patient . And then - a couple of weeks later - in the headlines of all the newspapers - " The Joker escaped from the hospital Arkem ." Experiencing and suffering Harley place does not find it. And so a few weeks . But there already arrived in time The Dark Knight , returning downed and deranged Joker in a psychiatric hospital . This painting is finally brought Harlin crazy. Without thinking, she put on a suit and arlekinsky by staging a pogrom in the hospital , took away the laughing Mr. Jay away from the psychiatric hospital ...
That's how Dr. Kvinzel became Harley Quinn .