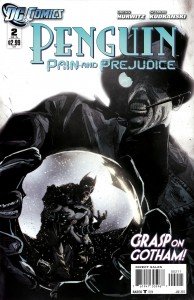 Penguin - Pain and Prejudice #01-05 Complete
Collections / DC publisher
Pages: 129
English comics
Size: 101.15 mb.
As a young Oswald Cobblepot go from being the apple of his mother's eye thugs leader and opponent of the Dark Knight ? This exam last penguin is fraught with dark family secrets and heartbreaking moments, which explains much of the criminal idutvo naklonnostiptichego robber .
Now , Penguin runs a vast crime empire , which is always one step away from failure , thanks to the intervention of Batman. But angry villain finds solace in the amazing new lady love . Maybe it might be the last , or the new Penguin budetlitsom valleys of humiliation ? How can he keep the Dark Knight in the distance, the fight of his childhood demons and maintain the power and image that has become so important to him ? As he struggles with these issues , nefarious plot revenge his thoughts , hidden in the depths of the soul ...
Penguins PAIN and Prejudice collection of questions 1-5 , critically acclaimed writer GREGG Hurwitz ( Batman: The Dark Knight ) joins forces with artist Shimon KUDRANSKI (Detective Comics) dlyazahvatyvayuschy story that explores the psyche of one of the most unique villains of Gotham City . This volume also includes ASYLUM Batman Joker Penguin history of Jason Aaron and Jason Pearson .