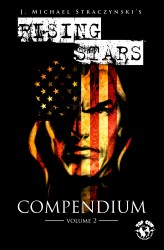 Rising Stars Compendium Vol.2
Other publisher
Pages: 432
2008 year
English comics
Size: 335.9 mb.
This edition includes the Rising Stars: bright, Rising Stars: Voices of the dead and the Rising Stars: Untouchable.
When Rising Stars first debuted in 1999, people welcomed his new take on the superhero myths grounding fantastic in realnosti.Novatorskim series which became a famous writer J. Michael Straczynski (Babylon 5, Thor) spawned three spin-off mini-series and the influence of successful TV -Show as 4400 and heroes.