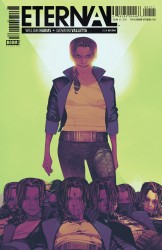 Eternal #01
Why we love it: we like to give our readers are smart and thrilling science fiction, for example, Hypernaturals, Six-Gun Gorilla, and our adaptation of Philip K. Dick androids dream of electric sleep ?. We continue this tradition with eternal history where people can always make clones of themselves, and death is a thing of the past. We need to know: What the world as it looks?
Why you'll love it: William Harms (Impaler, Infamous) in the development of capture, complex story of what happens when science completely changes the rules of life itself. This is a story where the characters ethics and loyalty tested for society changed, but human vices, remain the same. The next step in humanity brought to glorious life of Giovanni Valletta (Dark Horse presents).
What it is: In the world of clones Human Liberation Army wants to free people from the hands of a new life. Their leader Gail will take the most determined, personal events remains to be done. Ratmanov, a former detective to investigate the killings appeared New Life Enforcer, in the case and asking difficult questions. Violet, a young girl and one of the few neklonovanoyi human kind Pureskoy-left, keen to enter the real world. But she has no idea of the danger it enters into.