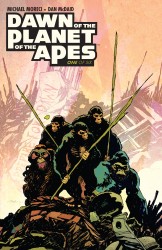 Dawn of the Planet of the Apes #01
Why We Love IT: BOOM! has a long history with the Planet of the Apes, and for good reason: We love those damn dirty ape. Working as an ideal table for the study of diseases of society through the prism of science fiction, we were excited to explore these themes in a contemporary setting new films.
Why you'll love it: Michael Morse (Curse, Hoax Hunters) and Dan McDaid (mind the gap) to bring the world of annoying Dawn Planet of the Apes to life, dealing with classical and modern Pot questions about chtoistinny meaning of "society" is, and to be "civilized" is possible even in a world torn with strife. Great for fans of end-world stories like 12 Monkeys, roads, and the sons of men.
What it is: Overcoming a 10-year gap between the Rise of the Planet of the Apes and monkeys Dawn planet films, fans will witness the fall of humanity and civilization increase Caesar. While the monkey world still advance as species, Caesar must find a way to combine them into a single cause. On the other side of the country, Malcolm must go to the decaying North and South America with his family to find a cure for the plague slowly killing his wife, Rita. World powers will change in the collapse of civilization and growth.