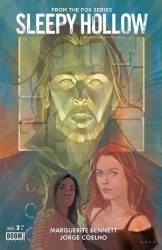 Sleepy Hollow #02
Boom publisher
Pages: 24
2014 year
English comics
Size: 49.3 mb.
WHY WE LOVE IT: As fans of the television series Sleepy Hollow (now begins the second season on Fox), we knew we had to make a comic as intrusive, engaging and visually gorgeous as the show itself. Thanks to the multi-layered characters, intense visuals and macabre stories, Sleepy Hollow is primed for comics.
Why you'll love it: One of the most interesting young writers working today, Scott Snyder protege of Margaret Bennett is currently writing a Butterfly Archaia and worked on Lobo DC Superman: Lois Lane and Batman: The Joker's Daughter. Even if you do not watch the show, Sleepy Hollow is perfect for fans of the supernatural. Includes all-new backup stories from Noel Stevenson (Lumberjanes).
What's it about: After dying on the battlefield during the war for independence, Ichabod Crane wakes up in modern Sleepy Hollow, New York. His resurrection is tied to the re-emergence of the Headless Horseman, one of the four horsemen of the Apocalypse. Realizing it was his mission to help stop the end of the world, the team Ichabod with broadband in LTL Abby Mills, to meet each evil threat head-on. With minor miracles start to sweep the city, they are happy, something good seems to be happening at this time. No beheading, not the headless horseman, do not worry, do not you? But, as one after the other miracles start to backfire, stronger and stronger, Abby and Ichabod have to find the time between saving the world, to save the citizens of Sleepy Hollow ...