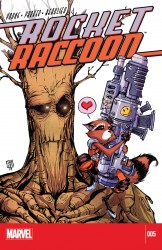 Rocket Raccoon #05
As seen in the blockbuster Marvel Studios film, Guardians of the Galaxy, Rocket and Groot back!
This breakout hit series in the summer! As their space adventures continue, to find out why Rocket Raccoon and Groot are quickly becoming the hottest characters in the universe Marvel.
As the most dangerous creature from outer space bold get the bad guys? With his two best friends: Weapons and Groot!