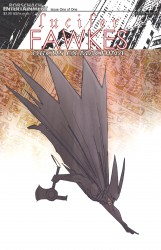 Lucifer Fawkes - Orcus Ex Machina
Other publisher
Pages: 35
2004 year
English comics
Size: 44.2 mb.
Orc Ex Machina
666 hostages of their gorgeous dome.Nechestivy victim in the making. And the bomb ...
One of the main advantages of only the richest of Cosmopolis "top, Fable Towers marks the peak of the evolutionary architecture and computer technology. Erect in the center of the city, this luxurious, skyscraping Beacon tomorrow populated exclusive elite of several hundred people, and basically everything and whims catered to by ENV 12 (Enhanced Native vigil-System 12) - the most advanced computer system is out of space and military programs.
ENV 12 is a milestone in the field of artificial intelligence.
ENV 12 gates to hell.
Lucifer Fawkes can outrun the clock as he struggles to prevent the demonic forces from demolishing the walls of reality? Find out in this high-octane Pulp Modern Tale of techno-horror, shamanism and total action!