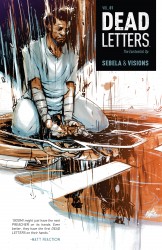 Dead Letters Vol.1 - The Existential Op
Boom publisher
Pages: 112
2014 year
English comics
Size: 210 mb.
WHY WE LOVE IT: Here at BOOM! Studios, crime in our blood. With our comics, and now a feature film 2 guns for critics of our series, we have always had a passion for all things noir. DEAD LETTERS is the next step in our study of the genre.
Why you'll love it: The creators Christopher Sebela (ghost felony) and newcomer Chris Visions teamed up to create an entirely whimsical story that will bring back memories of your favorite noir story somehow turn it upside down. Do not miss out on a completely unique take on crime fiction is perfect for fans of Parker, Richard Stark, Criminal and fell. "Christopher Sebela wrote this thing just is not perfect. ... In general, this book looks like the ultimate." - IGN
What it is: Waking up in Fleabag motel with bandaged hands and a gun on the table, Sam remembers, not how he got here, where there is, or who he is. But armed people knocking on the door and Sam do have to use every trick from his repertoire forgotten outrun and outsmart your way through the hard-boiled Wonderland gang wars, Fatal Beauty and big secrets. Collects issues # 1-4.