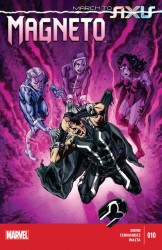 Magneto #10
MARCH to AXIS continues!
When Magneto discovers that mutants are currently taken to re-education camps, he goes to investigate ...
And when he does not know that the Red Skull is behind the work, and at the disposal of the brain and the powers of his late ally and friend, Charles Xavier, at least, Magneto becomes determined to close it!
But can the Master of Magnetism overcome the Red Skull and his dreaded S-Men?