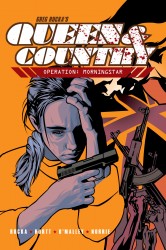 Queen & Country - Operation - Morningstar Vol.2
Oni Press publisher
Pages: 84
2014 year
English comics
Size: 83 mb.
Afghanistan is one of the hottest political leaders. When the Taliban discovers foreign journalists are also serving as secret agents for the SIS, in Mentor put on a mission to find the secret contact list before the enemy does. However, when the Director of Operations Paul Crocker decides to send his agents only men in the field, it does not suit Tara Chace. Adding images, it is now required to attend therapy sessions to cope with the effects of previous operations. Not content to sit on their hands, Tara spends his time trying to piece together the puzzle, aiding motorists and Wallace Kittering in their race against time. This second collection of the famous series Queen & Country breaks new ground for comics, decision tough subject in a realistic and intriguing way. By Eisner-winner Greg Rucka, with art by Brian Hurtt, Bryan O'Malley, and Christine Norrie, chapter breaks by John K. Snyder III, and canopy Durwin Talon.
British spy Tara Chace in Afghanistan.