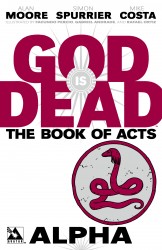 God is Dead Book of Acts - Alpha
Avatar publisher
Pages: 50
2014 year
English comics
Size: 75.5 mb.
The greatest team of writers assembled to reveal all-new tales of gods and men in the biggest event of the summer! Two questions, the giant-size can be kicked only after receipt of the greatest writers in all of comics, Alan Moore, as he brings a story only he could tell - when it comes to a personal God Glycon on Earth! Reuniting with Facundo (Fashion Beast) Percio, Alan himself stars in the history of where the gods really get their power. Simon Spurrier is reviewing humble cherub is perhaps the most devastating of all the gods, the one who knows how to use modern human weakness! And an ongoing series scribe MIKE COSTA finally reveals the greatest mystery series - who really killed God? Alpha and the Omega, the two epic tomes that you do not want to miss!
Available with lovely Regular, Iconic, and the end of the world covers by series artist Jacen Burrows cover. Carnage also with the smell of German Nobile and divine and pure art retailer incentives Burroughs. You also do not want to miss Leather Case Glycon by Burroughs and get everything at once with Deluxe Collector!