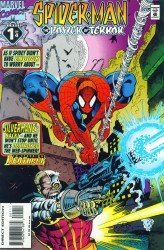 Spider-Man - The Power Of Terror #01-04 Complete
Collections / Marvel publisher
Pages: 4 issues
1995 year
English comics
Size: 32.1 mb.
All this is happening while married to Peter MJ experiencing ups and downs. He discovered that his "parents" were actually robots. He went through his dark and Moody " I Spider " thing. He met Ben and Jude travelers and learned that he was going to become a father .
Now, at the same time waving it around looking for trouble. He made when he was working on the hit weight Majah . When he appears, both sides start shooting him instead of each other. A few " babies" caught up in the struggle, and catch too many balls to keep on living. Man now has a reason to intervene.
Cut to Coney Island. Deathlok (Michael Collins) is attacked in an old amusement park by half Sinister Syndicate - Beetle, Speed ??‹??‹Demon, Hydro - Man. They were sent to a " mutual friend ." They are Deathlok on the trail ... Where?
Meanwhile , Caesar Cicero came to pay their respects Silvio Manfredi - Srebrohrivyy . Srebrohrivyy and Cicero struggled for control Majah his family for many years. But now Srebrohrivyy has new plans. It seems that he wants to form a family alliegance Maggio some reason. It also " takes" to improve his personal fortune , that is what it basically head living in the car. In addition, he created Scorpia, Scorpion based outfit ... ignoring the fact that the scorpion actually has significant physical improvements too, and far more than just a costume.
Seems Cicero agreed to ally with Srebrohrivyy and prepare a plan to block all tunnels and bridges to blow in and out of New - York. It's all about power , I see the power of terror !