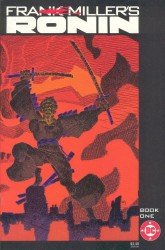 Ronin #01-06 Complete
Collections / DC publisher
Pages: 6 issues
1983-1994 year
English comics
Size: 157.1 mb.
Many illustrations , 6 issue mini-series , Ronin was the first project to use DC prestige format ( glossy paper cardboard with lids ) and was one of the most influential works of its time. Film blending of words and images. Sci - fi epic was written and drawn by Frank Miller's popular comics artist is known for pushing the envelope of visual story in the pages of Marvel Daredevil . The predecessor of the ground -breaking work in Miller's Dark Knight Returns , Batman Year One and many other graphic novel that followed , Ronin was as innovative and interesting.
Ronin chronicling the adventures of the heroic orphan samurai of feudal Japan who may have been simply construct a vivid imagination psychotic idiot who lives in a gloomy future. Comic is an unusual combination of influences on Miller French cartoonist Moebius and Japanese manga comics, and contained themes and plot elements familiar to Miller's work , such as cannibalism , sewage residents leather clad Nazi gang members and sex and love in the midst of violence.
It begins with the murder of Lord Odzaky demon Agat . Azaki a disciple of the Lord , but now he Ronin. Later Ronin reincarnated in Billy haly man, born legless powers telekinis. He dreams about Ronin. Agate following Dystopian Ronin in New - York. Ronin vowed to kill Agate, because he killed his master , Lord Azaki. In this installment of the series 6 mini should Ronin, he must kill Agate .