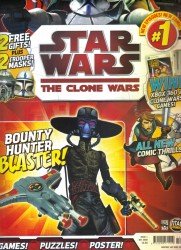 Star Wars - The Clone Wars UK Magazine (1-10, 14-41 series)
After the epic collapse of imperial space program " Death Star 1" industry lobbied for the construction of a new, improved version of the station. Corruption, cuts and kickbacks on construction reached such proportions that , looking ahead, over the next four years after the events of the comic station was never completed . Meanwhile, the leading imperial generals and a colonel D. Vader Bircher both expressed doubts about the effectiveness of superweapons and prefer to decide cases and paternal grandfather's methods - light saber and a squadron of Star Destroyers .
Luke Skywalker and Wedge Antilles are engaged in industrial espionage on board the imperial cruiser , Han Solo overs chicks on Coruscant , Chewbacca trying to get rid of the annoying attention Bossk , Boba Fett is learning to fly in space , and Princess Leia ran away from work and for the first few numbers recalls that it actually blew up the planet . Full of explosions and adventure story Rebellion continues in the ninth and tenth number series " Star Wars ."