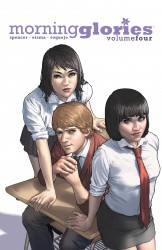 Morning Glories Vol.4
Still reeling from climatic events "PE" Glory are lost in time and space, faced with a new group of students that can be even more dangerous than themselves Faculty - truants! The questions are answered and new puzzles arise as Season One comes to a shocking end!
Collects # 20-25 morning glories.