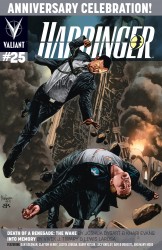 Harbinger #25
The last battle Toyo Harada! The future starts here Harbinger of stellar, 48-page commemorative milestone - Packed with new all-star cast of contributions creators and shocking new revelations about the fate of a teenager Superteam Valiant!
Renegade dropped and now there is no turning back. Stripped of its allies and the whole point of self-preservation, the most powerful in the world "predictor" super-powered billionaire Toyo Harada is about to cause a terrible retribution on the world that he thought he could control ... and everything that we thought know will forever change on the way.
The original series creators Joshua Dysart and Hari Evans reunite to deliver devastating climax to the second year of the series, Onion / AV The club called "the pearl of the line Valiant" - and he followed the "traitor's death" with all new artwork and stories of incredible roster of talent awards, including Dan Goldman (Red Light Properties), Justin Jordan (Talent of Luther Strode surprise), Barry Kitson (Empire), Lucy Knisley (Taste: My life in the kitchen), Andrew Pepoy (fables), Rafer Roberts (Sell Real Friends Destiny), Riley Rossmo (Drumhellar), and much more!