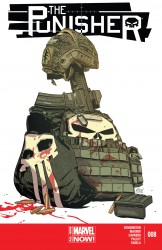 The Punisher #08
NEW YORK TIMES bestselling author Kevin Maurer (NOT an easy day) puts Nathan Edmondson OPINION ON THEIR TALE unpleasant jungle war!
Frank Castle wounded and a Special Forces medic danger dangerous terrain and ruthless mercenaries make their escape
Crossbones and his team will not stop until Punisher are not under their care.
It's a race for survival, not to be missed, as Frank adventure south of the border comes to his blood soaked through!