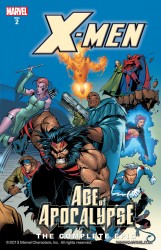 X-Men - Age of Apocalypse - The Complete Epic Vol.2
Marvel publisher
Pages: 304
2006 year
English comics
Size: 252.8 mb.
Watch your favorite X-Men through a dark glass as the epic that literally rebuilt the X-Men in eight series and more continues! Apocalypse has conquered half of humankind and is ready to destroy them all! Magneto and his Amazing X-Men fight to protect humans and mutants, so, only to learn from Bishop that his world might need to be unmade! Plus: excerpts from Apocalypse's own files on the alternate-universe X-Men, and their friends and enemies ... but which is which? Thanks Blink and Sabretooth exiles!
Reprints X-Men: Alpha, Age of Apocalypse: The Chosen, Generation Next в"– 1, Amazing X-Men (Volume 1) # 1, X-Caliber number 1, Gambit and X-Ternals # 1-2, Weapon X (Vol. 1 ) # 1-2, Astonishing X-Men # 1-2, Factor X # 1-2, and X-Man в"– 1.