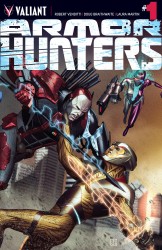 Armor Hunters #01
Valiant publisher
Pages: 45
2014 year
English comics
Size: 78 mb.
This summer, the Earth will be the greatest of all hunting when VALIANT FIRST unleashes the first release of 2014's must-read crossover event - Armor hunters - from superstar creators Robert Venditti (XO Manowar, Green Lantern) and Doug Braithwaite (Unity)!
Relentless and surgical team hit with the far corners of the cosmos - sworn to destroy the XO Manowar armor and all like it - finally found his latest target. They will hunt. They will grab. They kill. And they will rid the world incalculable destructive power XO Manowar in ... even if it means taking the Earth with him.
In the tradition of the universe shaking harbinger of war, the greatest heroes of Valiant start blockbuster 18-issue crossover event of the summer right here in Armor hunters number 1 (of 4) - and then run the resistance against the world's first full-scale space threat with new arc starting in Unity в"– 8 and XO Manowar в"– 26 in June; Hunters and Armor: Bloodshot в"– 1 (of 3) and armor Hunters: Harbinger # 1 (of 3) from July!