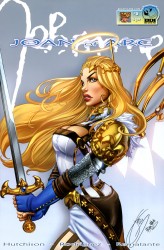 Joan of Arc vol.2 #0
Big Dog Ink publisher
Pages: 20
2014 year
English comics
Size: 25.4 mb.
In the first 13 years Jeanne, for her confidence, she heard the voice of the Archangel Michael, St. Catherine of Alexandria, and is believed to be Margaret's of Antioch [2], which is sometimes visible in her appearance. After some time they allegedly opened Joan what she was destined to lift the siege of Orleans, to build the Dauphin to the throne and expel the invaders from the kingdom. When Joan was 16 years old, she went to the captain of the city Vaucouleurs Robert de Baudricourt and announced his mission. Being ridiculed, Jeanne was forced to return to the village, but a year later repeated his attempt.