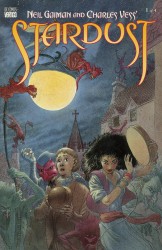 Neil Gaiman and Charles Vess Stardust
Collections / Vertigo publisher
Pages: 4 issues
1997-1998 year
English comics
Size: 418.7 mb.
Our story begins in Zastene , in the village located at the crossroads of our world and Oz , where every 9 years, the inhabitants of both worlds meet on magic fair, to exchange goods and get some services. When Dunstan Ternes is a magical fair to purchase a gift for his beloved , he did not podazrivaet that fairyland it will have a meeting that will change his life forever ... and love . 18 years later, when the son of Dunstan , Tristran , rash oath gives his beloved, rustic beauty - to find and bring the fallen star . In search of the star he would have to go to the farthest uglkah Fairy Land , where he will meet unforeseen difficulties and temptations , as well as learn the truth about his origins . Charming , magical, romantic story from Neil Gaiman and Charlie Vess ' Stardust ' excellent ilyustrirovannaya and lyrically written , the only comics won at World Fantasy Award.