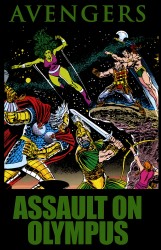 Avengers Assault on Olympus HC
Captain America ! Thor ! Namor ! Hercules ! Black Knight ! She-Hulk ! Captain Marvel ! Doctor Druid ! Wasp ! See the Avengers storm the very gates of Olympus to battle the entire pantheon of all-powerful gods ! Do our heroes have a chance? Plus : from the Thunderbolts , Moonstone ! And Jarvis stands alone ! Collect Avengers # 278-285 .
Avengers : Assault on Mount Olympus written by Roger Stern with artwork provided by John Buscema. This story is a direct follow up to the Avengers : Under Siege Avengers which collects issues 270-277 , which sees the gods of Olympus seeking revenge for the brutal beating Avengers Hercules in the hands of masters of Baron Zemo Evil ; with great action , story and art , this TPB, that belongs in the collection of any fan of the Avengers !