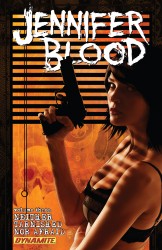 Jennifer Blood Vol.3
" Sometimes, " always " is not very long . "
Looks like Jen finally got everything she wants - her crusade against her murderous uncle is over, and it has successfully repelled the attack everything from war profiteers to waffle sellers. There's just one tiny fly in the ointment : Detective Elaine Pruitt, Murder . Jennifer blood killed his partner , but did not quite manage to kill her. That was a mistake .
Meanwhile, the old love Andy re - enters his life . For a family of anyone else , he would have the makings of a pretty standard suburban drama. But this family Jennifer Blood. And she will do what she thinks she should keep it.
This volume collects issues 13-18 Al Ewing , Kewber Baal and Eman Casallos, and includes all the covers by Tim Bradstreet and much more.